The origins of karate can be traced back through the centuries from modern Japan via Okinawa to China and possibly to India in the fourth and fifth centuries BC. Much of this history is documented, whilst some is embedded in myth and romance. It is generally believed that karate synthesized on Okinawa from the indigenous fighting art of tode and Chinese chuan-fa. Combined together they bore the name Okinawa-te (Okinawa hand). Te evolved into karate-jutsu, translating as the "art of T'ang hand;" referring to the T'ang Dynasty of China.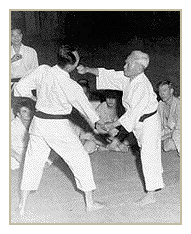 The development of karate on Okinawa, as a means of self-defense, received tremendous impetus upon its exposure to Japan. This was due to Gichin Funakoshi who today is recognized as "the father of Japanese karate". Largely, through Funakoshi's effort, karate-jutsu further evolved into karate-dô, meaning "the way of the empty hands".
Japanese karate stresses three types of practice: kata (solo pre-arranged forms), kihon (basic technique) and kumite (free-fighting). Typically, karate stresses self-control, discipline and self-defense. Many advanced practitioners train to turn their whole body into a weapon. A good illustration of this concept is captured in the saying, "My shutô (knife-hand) a sword, my nukite (spear-hand) a spear and my seiken (fist) a hammer."